Cosplay is a world of its own. From the outside looking in, it's easy for spectators to assume it's just a bunch of super fans dressing as their favorite characters for conventions. While conventions are a large segment of cosplay, it actually goes much deeper and even dates back to the 15th-century masquerade balls. It's an art. Cosplayers spend countless hours and large sums of money designing and creating costumes. It can get even more expensive when you add in photoshoots and accessories.
Cosplay crosses over so many genres, and not all stem from fan fiction. There are comics and superheroes, gamers, TV shows, fantasy, anime, horror, and all sorts of eras. In this article, I've gathered twelve unbelievably realistic Cosplayers, showcasing amazing dedication and talent in their art. From sick photo manipulation to accessories, and poses. Scroll through and check out the cool craftsmanship pulled off by the artists and models.
1. DC: Batman 
Pulling of the Dark Knight cosplay is a feat not too many cosplayers can pull off realistic. Aside from donning the pointing ears mask and the cape, the cosplayer has to have the grade-A Batfleck-like jaw to make it believable. Batman is also a master combatant and gadget god so the utility belt has to be on point.
https://www.instagram.com/p/BxlkTAfjxHa/
If there was a cosplay contest for the best Batman cosplay, you should expect @saadleup to be in the top five. He has taken on so many different variations of Batman – from Arkham Batman to Batfleck to Batman Beyond and each time he knocks it out of the ballpark.
Cosplayer: @saadleup
2. Marvel: Black Cat
Marvel's Black Cat is a favorite of fan boys for many reasons most notably for her formidable superhuman abilities. She commands respect withheroes but also garners the fear and respect of villains as a recent crime boss. Her presence and costume are almost as iconic as her fellow feminine feline DC counterpart Catwoman.  Not too many cosplayers could accurately portray these powerful feminine attributes with powerful sexiness like professional cosplayer Kate Smirnova. Her cosplays as Black Cat will are extremely popular with fans and for good reason.
https://www.instagram.com/p/BvPQktch7Hs/
Cosplayer: @smirko_o
3. DC: Aquaman
Aquaman is arguably the most powerful of the all the DC superheroes. The half-Atlantean, half-human is gifted with superior strength and speed on land on in the sea. Along with his battle prowess and wisdom, he is also the king of the Seven Seas – reigning over three-fourths of the world.  His appearance is unmistakable with his long hair and muscular physique so to pull off a cosplay of this character one has to have not just the body, but the confidence to pull off his regal appearance and I think King Tide absolutely nailed it.
This Cosplay of Aquaman consists of a costume of over 3000 handmade scales on the shirt and pants. Arm cuffs, a scepter, long hair, and contacts all help complete this look. The devil is in the details, but the execution is almost perfect. A big shout out to the model who is also the model the artist behind the costume design. This cosplay is an example of a simple design with immaculate execution, paired with great photography.
https://www.instagram.com/p/B0eS-BtArIB/
Cosplayer: @king_tide_creations
Photographer @bashar.cosplaywon
Link : https://www.cosplaywon.com/bashar/series/aquaman
2. Marvel: Spider-Man
Spider-Man is easily a top five comic character of all-time. As a result, this iconic classic character that it can be hard to capture without being too cheesy or overdone. This cosplayer got it just right. Not your average Spider-Man cosplayer just posing for a photo. On top of a building, appearing as if he just landed or is about to launch, he's captured the essence of Spider-Man. Check out the arch in his foot, and the way his fingers are gripped to the ground like sticky spider-fingers. His pose is so precise and he captures the iconic Spidey gaze when he's about to take on the enemy. This guy could definitely pass as a part of the Spider-Verse.
Source: https://www.reddit.com/r/cosplay/comments/7sqcdz/self_ps4_spiderman/
3. Anime: Himiko Toga ( My Hero Academia)
Himiko Yoga is a villain from the anime series My Hero Academia and not someone you'd want as your adversary. A master of disguise with the ability to make herself invisible, this character stands out. The bleach blonde pigtails are a part of Himiko's signature look and though not a vampire, with her blood-sucking machine in tow, she does have the ability to drink your blood.
Source: https://www.pinterest.com/pin/627267054329881939/
4. Star Wars
Star Wars is one of the most popular genres of Cosplay. So many episodes, so many characters, so much creativity and artistry to be had. You can't do Star Wars without doing the most. Here we have a Cosplay of Finn in his full First Order Stormtrooper gear from Episode VIII. From top to bottom this costume leaves no doubt about who he is.
The hills in the background are reminiscent of the desolate Tattooine dunes populated by scavanger life forms. Luckily, our Stormtrooper is accompanied by his weapon just in case something should happen. Perfectly tailored and detailed costume…check. Weapons and necessary accessories…check. Perfect scenery…check. Kudos to this cosplayer and his team. They do Star Wars mythos justice.
https://www.instagram.com/p/Bt9n6hFjriJ/
Cosplayer: Chiefgeekphotography
Photographer: jrulison
5. Gaming – Sub Zero (Mortal Kombat)
Sub Zero is easily one of the favorite original characters of the Mortal Kombat franchise. A legendary stalwart of the series as he is one of only three characters appearing in every single Mortal Kombat game so it's no surprise that most fans would want to Cosplay his character.
Source: https://na.alienwarearena.com/ucf/show/914170/boards/cosplay-1/Image/sub-zero-mortal-kombat-cosplay
As the kids say, this cosplayer got cold with it. Not only is his costume spot on to Sub Zero's dress in the game, but he also chose the perfect background. If you've played Mortal Kombat, you know a fight can take place anywhere from ancient ruins, to a dirty subway.  This cosplayer captures that very essence in in this scene. If you take an even closer look you can see the frozen smoke radiating off of his body. Great photo manipulation from the editor/photographer.
6. Game of Thrones: Arya Stark
I'm sure at this point we're all still in mourning that our favorite show has come to an end. Especially when the ending was… not what we expected. Anyway, I think we can all agree that one of our favorite characters (if not our favorite character) was none other than Arya Stark. The Stark girl who started as a fiery young girl transformed to No One, and turned out to be the slayer of the Night King gained her spot on this list. As did the awesome cosplayer who nailed this Cosplay.
https://www.instagram.com/p/Bxsfwdgobwz/
The background goes perfectly with the magical themes of the show. If you look at the photo quickly, you might actually think this is Arya. With Needle on her hip and her classic deep stare on her face, she's ready to explore what's west of Westeros.
Cosplayer: @noaxaon
Photographer @akunohako
7. Fantasy
Fantasy is one of the cooler genres within Cosplay. Though it can focus on a particular character from books, shows, or movies, many times it features mythical creatures, fantastical places, or just things out of the ordinary.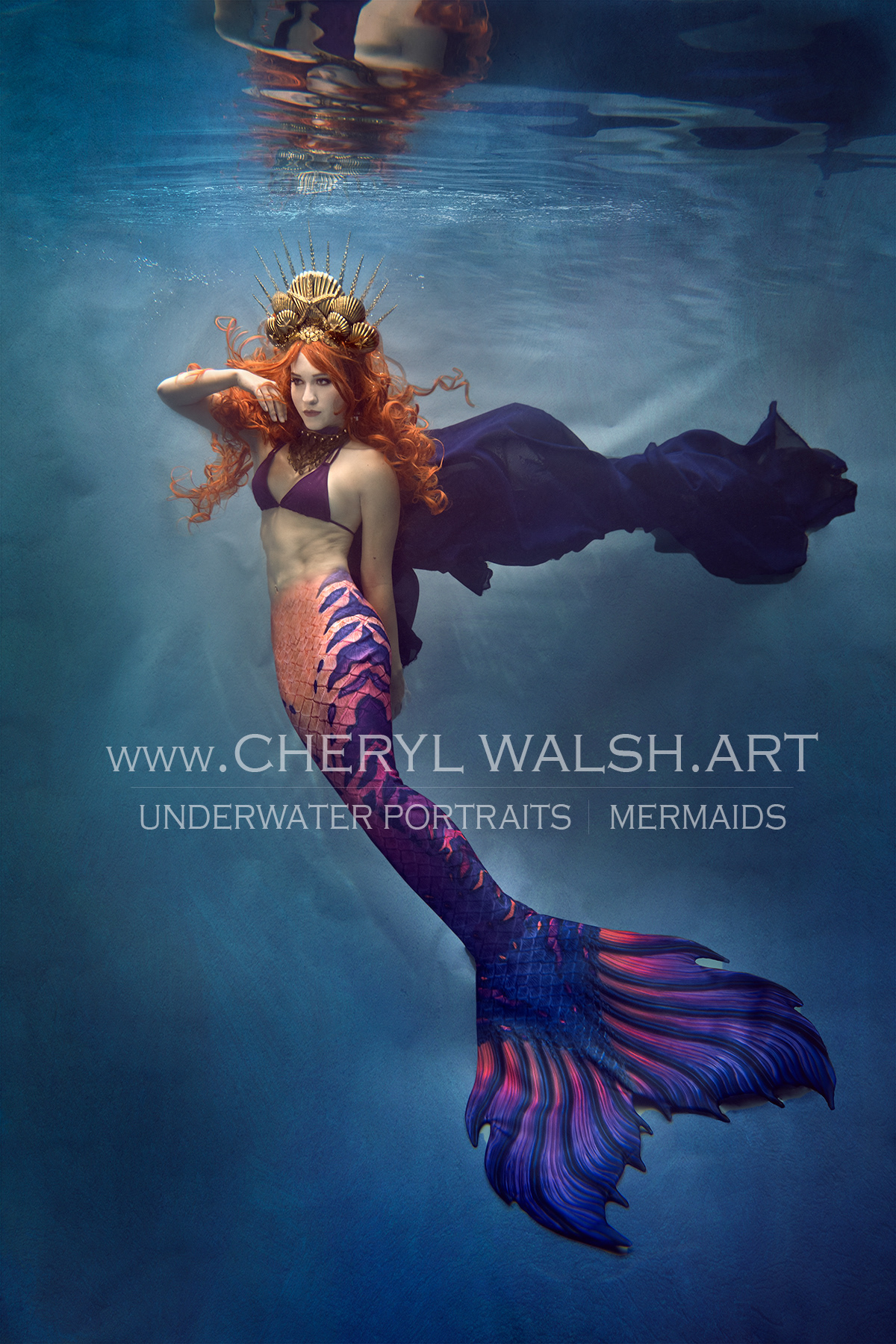 Photographer: Cheryl Walsh
Source: http://www.cherylwalsh.art 
This fantasy cosplay features a mermaid and takes photo manipulation to the next level. Half woman, half koi, but a whole lot of beauty that leaves you in awe. The artist, Cheryl Walsh, uses her photography to bring fantasy to life. Her work features elements ranging from mermaids, fairies, dancers, and even heroines.
8. Steampunk
What is Steampunk? Simply put Steampunk a genre of science-fiction that has a historical setting and typically features steam-powered machinery rather than advanced technology. It's signatured with styles of pre-Civil War but has a modern edginess. Steampunk is cool because it can exist all on its own, with a solely Steampunk inspired costume, or Cosplayers can put a Steampunk twist on their favorite characters. Aside from the style of dress, the biggest indicator of Steampunk is the machinery.
Source: https://www.pinterest.com/pin/535858055659857699/
For instance, this Steampunk cosplayer is packing the heat, but it's not your modern day firearm, no pun intended as most male Steampunk Cosplay includes a mechanical arm. Notice the detail in the machine, in the mechanics of his arm, the overload of metal machinery, and all of the gadgets.
9. Female Cosplayers Princess Snake (Dragon Ball Z)
For this character, we opted to include a side-by-side image because you may not readily recognize her. Princess Snake only appeared in one episode of Dragon Ball Z, but the killer execution of this look warranted it's inclusion in this article. Cosplay isn't always about capturing the most popular character. Sometimes it's just about the art and bringing cool visuals to life. This particular cosplayer found Princess Snake so appealing she decided to give her a life outside of her one episode on the show, and she did it pretty well. From the hair to the earrings, to the white fur boa, to the purple globe earrings, to Princess Snake's minty green skin, she nailed it!
https://www.instagram.com/p/BvKZ6RaneFx/
Cosplayer: Roxy.Nightmare
Photographer: @eosandy
10. Professional Cosplayer: Stella Chuuuuu
Stella Chuuuuu is a former graphic designer turned professional cosplayer. She started out as a hobbyist, attending conventions with her Anime friends, and eventually decided to take on cosplay full-time. Though most of her looks are inspired by Anime characters, she has channeled Spider-Gwen and some other comics characters.
Being that she's a professional, Chuuuuu has all the bells and whistles for most of her costumes. Including the photographers, the photoshoots, and she even makes her own costumes and does online tutorials. The cool thing about Stella is she started out like most of us just having fun on the weekends and grew her cosplay into a career.
https://www.instagram.com/p/Bwnv6BsFdxc/
Source: StellChuuuuu
If you're new to Cosplay and thinking about getting involved, I would strongly suggest. Don't worry about having the best or most spot-on costume. Part of the fun is looking back to being a newbie and seeing how far you've come.